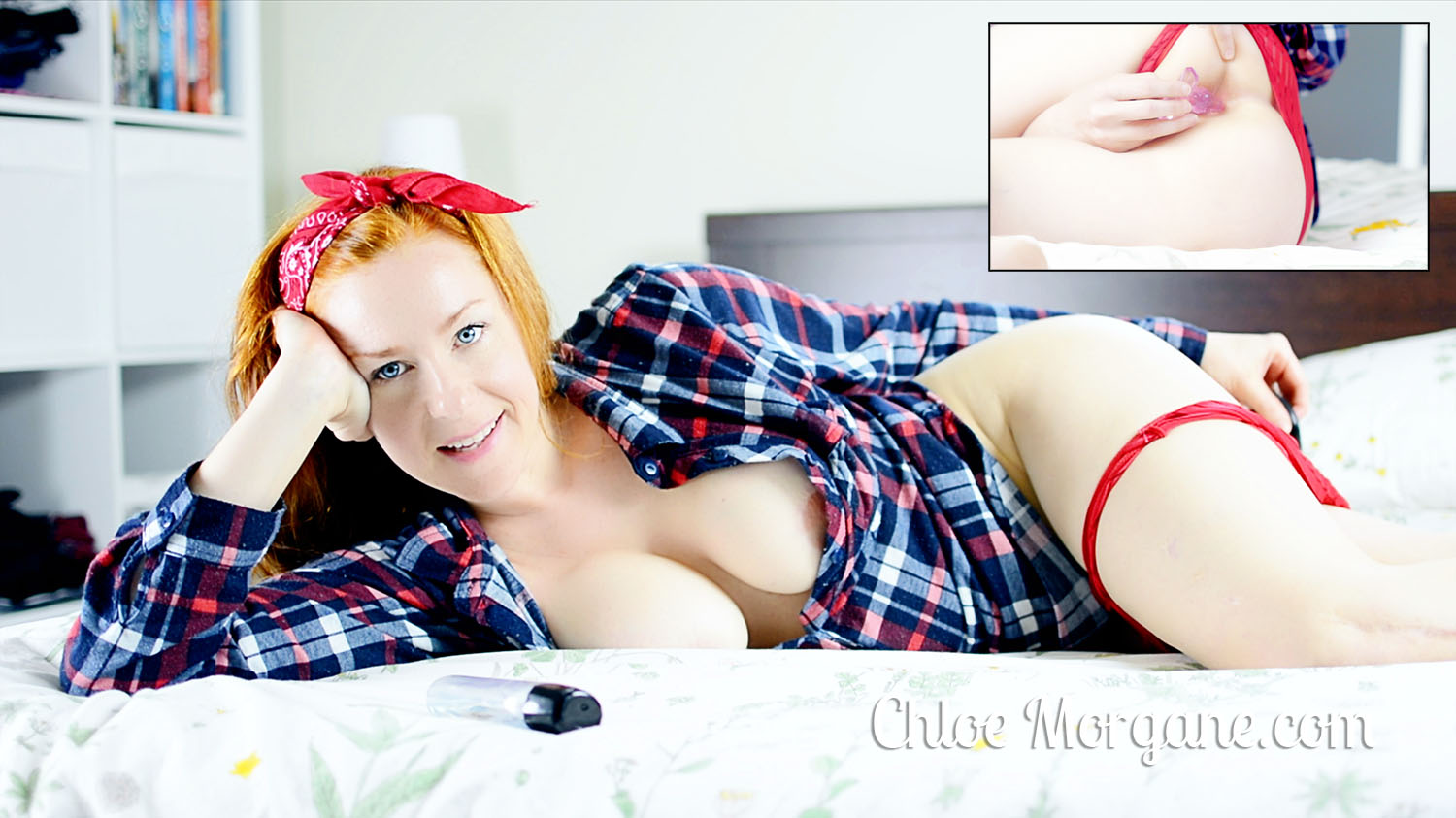 The plaid shirt screams comfort. Wearing a red bandana and red panties, I feel completely relaxed, and playful. My hand wanders on my breast, down to my butt, and there I push my panties aside. This reveals my lovely asshole, and my pink, soft pussy. The thought of anal play makes me laugh.
I reach for a small object laying there next to my big black dildo. It's a small, pink butt plug. I know it will give me fantastic sensations. I put lubricant on the small toy, and then rub it on my ass hole. I push it slowly inside, and it arouses me. I put back my panties, just to know how it feels to have the butt plug in my ass without doing anything else. My focus is on the tightness of my asshole around the butt plug.
The awareness of the butt plug in my ass is awakening my senses. I take my big black dildo, suck on it as if it was a tasteful cock. I just enjoy sucking on a dildo because it reminds me how much I love having a cock in my mouth.
I want the dildo in my pussy, and I slide my panties down to the middle of my tights. I play with the butt plug, just enough to tease my ass. Even if I'm wet, I put lubricant on the black dildo. It's fun to have it slide in smoothly the first time. When the black dildo glides in my wet pussy, I can feel the butt plug moving with the flow. Anal play is one of my favourite ways to give myself pleasure.
It's getting hot, and I unbutton my plaid shirt, revealing my big, round boobs. They bounce with the rhythm of my thrusts. In. Out. In Out. Each time moving the little butt plug in my ass, each time brings me closer to orgasm. My free hand is now playing with my clitoris. All my senses are stimulated, and the resulting orgasm is intoxicating.
If you'd like to support my work, you can signup and start watching all my videos and photos right away!