Redhead in Lovely Summer Dress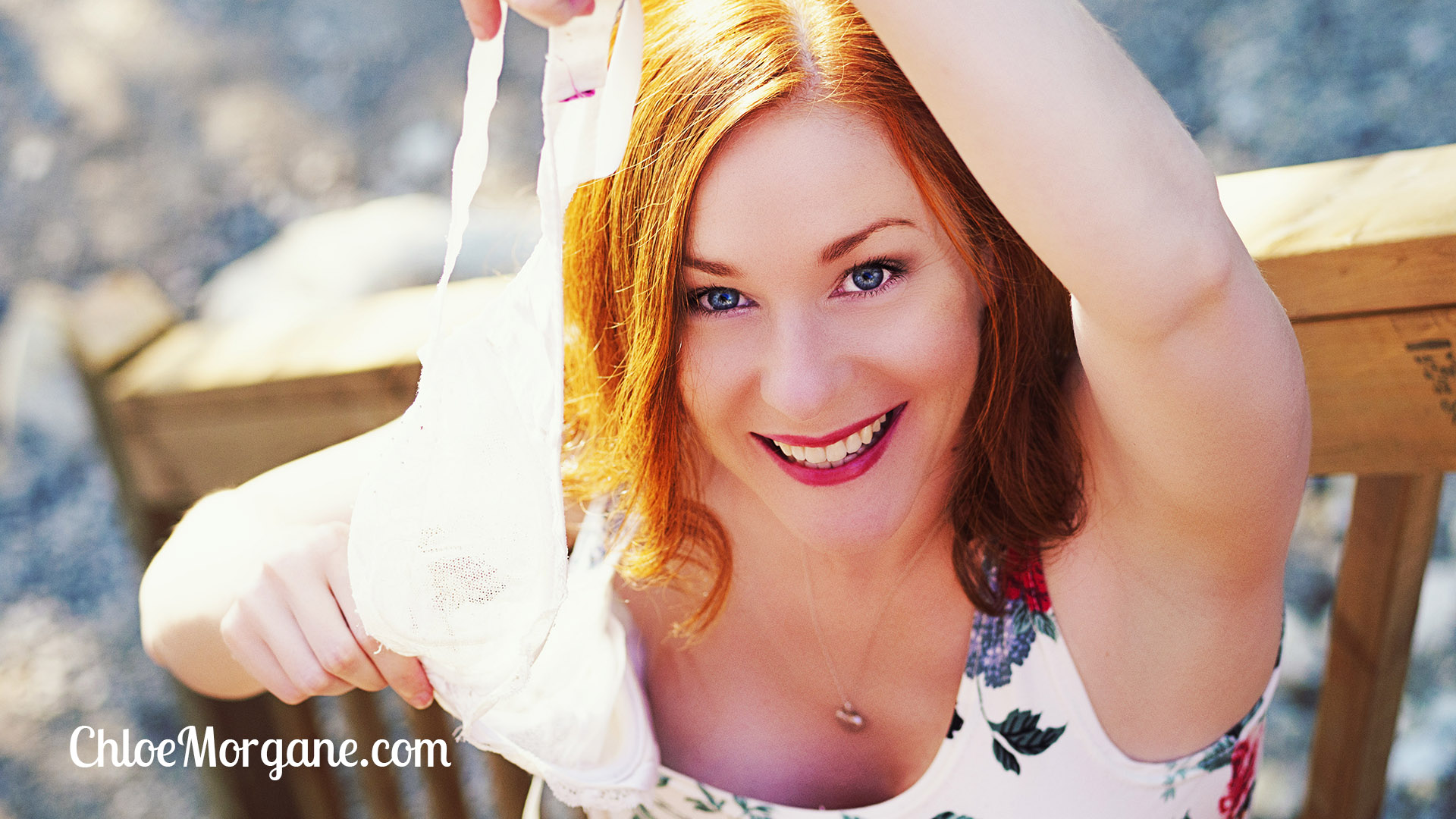 This type of dress is flattering for my body type and shows off a lot of skin around the neck. The fabric is light and air-y and it keeps me cool in the hotter months. To style this look, I added a blue flower pin to my red hair.
I know you love my red hair, so I let it down to show you how long and luscious it is. I run my fingers through it to give you a little tease. I know you can't resist my red hair, and you'll be thinking about it long after I'm gone.
One of the best things about having red hair is that you can show off your assets with impunity. In this case, I'm talking about my cleavage. I like to make heads turn, and this dress, with its deep U-neckline shows off my curves. I like to add a touch of sexy by removing my bra. I keep my girls in place by squeezing them to create a much generous cleavage for you to feast your eyes on.
I like to show off by lifting my dress to show you my lovely round butt. It's a fun and flirty move that I know will get your attention. I made sure I wasn't wearing anything underneath my dress to give someone a peek at my lovely butt cheeks.
My nipples are hard and begging for attention. I have a seductive smile on my face, and my green eyes are filled with desire. I start to slowly pull the dress up, revealing my creamy white skin. I stand there for a moment, letting you take in the sight of my body. My breasts are full and round, and my waist is tiny. I then start to walk towards you, my hips swaying hypnotically. When I reach you, I run my hands down your chest and kiss you passionately. My hands then move down to your pants and I start to unzip them. I pull you towards the bed and lay you down on it.
I start to kiss your neck and move down to your chest. My mouth then moves down to your stomach and I start to lick and suck on your cock. My hands move down to your pants again and I pull them off. I look at you for a moment, my eyes filled with lust, and then I start to lower my mouth down to your cock. I take you in my mouth and start to suck and lick you. My tongue swirls around you, making you moan. I then start to fuck you with my mouth, my lips and tongue moving up and down your shaft. My hands massage your balls as I suck you. You can't take it anymore and you pull me up to you. You kiss me passionately and then you flip me over onto the bed.
You pull my dress up and I raise my hips to help you. You slide your cock inside of me and start to fuck me. You pump your hips in and out of me, your cock sinking deeper and deeper into me. I moan and wrap my legs around you, pulling you in closer. You start to fuck me harder and I scream out in pleasure. You can feel my tight pussy gripping you and you can't hold back any longer. You cum inside of me, your orgasm intense and mind blowing. I have a few more spasms and then I collapse onto the bed, exhausted.
That's what happens when I wear this lovely summer dress and tease you...
If you'd like to support my work, you can signup and start watching all my videos and photos right away!