Blue Big Dildo for my Pink Tight Pussy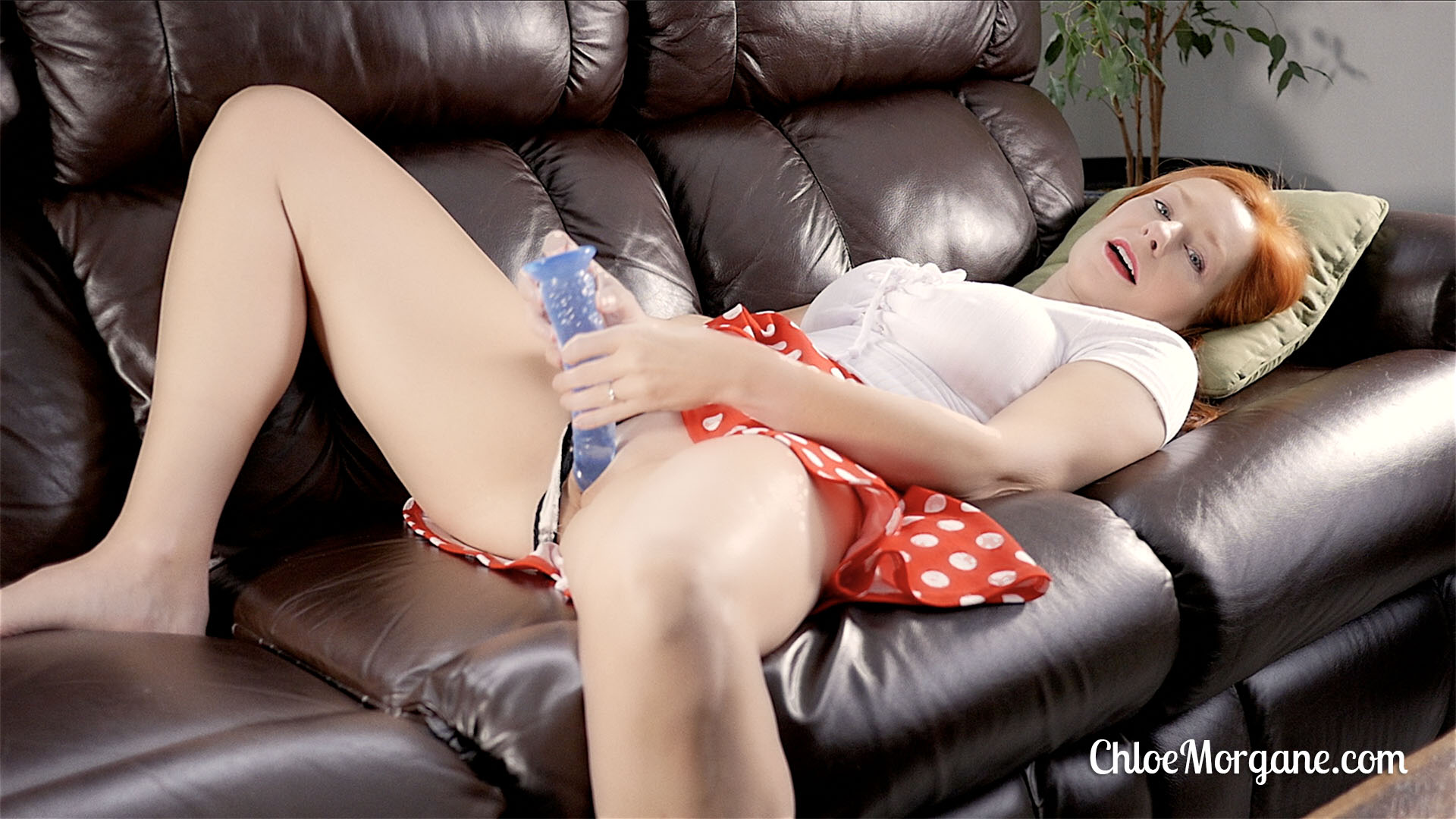 I'm alone for a little while before guests arrive. I'm always a bit stressed from preparing everything so I decide to give myself some quality time. This dildo is perfect for a redhead like me who loves deep penetrations. I like having my pussy filled with a veined dildo. It feels a little more like a real cock. This one has a great shape. It's narrower at the tip and gets wider down the shaft. It stretches my pussy little by little. It's just what I've been looking for, and I think it's perfect for me. The shaft is a lot thicker though, and it goes almost all the way in of my wet, tight pussy.
I love feeling that my pussy is getting wet and I always wish that I could take the dildo deeper. I take pleasure in sliding it in and out. Sometimes I just take it in with one hand and I play with my nipples with the other. I can feel my pussy clenching around it when it enters me. I relish in the sensation. I can feel my pussy getting wet and it's making me horny. It gets me so turned on that it makes me want to take more of it.
It's so nice to just let it slide in and out of me. Sometimes I can get so turned on that I'm sure that I need to take the dildo out, but I don't want to stop. So I slide it out completely but immediately slide it right back in. I do this until I'm satisfied and then I start playing with my clit. It's so good when the dildo and my hand play in unison. I adore getting my clit gorged with pleasure while I take a hard dildo into me. The feeling is so hot and I just wanna keep doing it until I get a consuming orgasm.
I'm getting so turned on right now pushing the hard dildo in and sliding it out, it feels so good, and I want to cum so bad. My pussy is so full and tight and the dildo is so deep that I have an orgasm coming in waves. I need to close my legs to feel the orgasm at its full power. It's perfect, and I want this to last forever, it's so intense that my body is screaming for more. So I reopen my legs, keep sliding the dildo in and out of me, but the sensations after having this fantastic orgasm are way too extreme. So I simply get the dildo out and start to lick it. I'm tasting very salty today...
If you'd like to support my work, you can signup and start watching all my videos and photos right away!