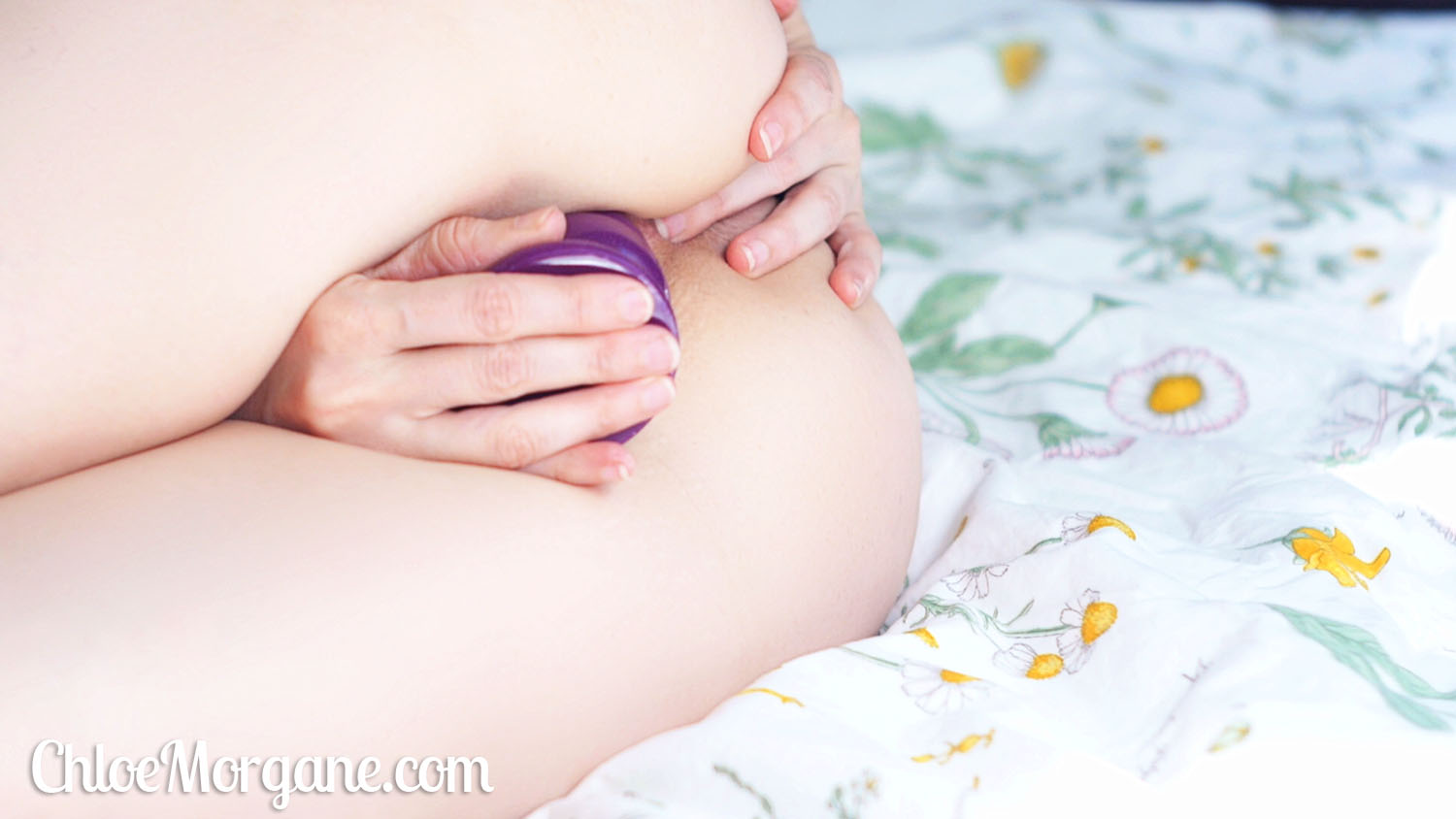 Lying in my bed naked, with bare breasts, I'm licking and sucking my purple dildo to get it all warm and moist. In my impatience, I lift my leg to open up and start rubbing my dildo on my pussy. My body flares to life in response to this stimulation.
I ache for deeper stimulation so I grab the lubricant and pour a few drops on my pussy. To get it on the dildo, I rub it, turn it, roll it over my flesh. These subtle caresses make my skin quiver and a flare of need passes into my eyes. I feel a drop of lubricant slide along the inside my thigh, but my attention goes back to pushing the tip without making the dildo enter my tight pussy.
To make the teasing game even stronger, I let the dildo slide inside, but go no further than the thick head. With my finger, I wipe off the lubricant that's gliding down my inner thigh.
Using my two hands to gradually push my dildo inside, I let it pass one ripple, then two, and three, until the dildo is completely inside my pussy. I moan as I try to absorb the spike of pleasure that rolls inside me. I surrender completely and thrust the dildo in and out. At this moment, I'm wet, totally aroused, and have to close my legs on the dildo to get an even tighter hold on it with my pussy.
My free hand wanders around, lifting my butt cheek, giving a great view of my adorable ass hole. My impulses guide my middle finger to glide from my pussy to my ass hole. While applying a delicate pressure to make the tip of my finger enter, all these erotic sensations combine to hold me right on the edge of orgasm. I gasp, get even more excited, and push my middle finger even further in my ass hole all the while rubbing my clitoris on the hand that's holding the dildo inside me.
Echos of pleasure are sent to every part of my body. My mouth opens wide to let my voice express the delirium of the coming orgasm. With a finger in my ass hole, ecstasy is quintupled and my body is held hostage to a wonderful orgasm.
If you'd like to support my work, you can signup and start watching all my videos and photos right away!