Redhead's Perfect Pussy Filled with a Big Dildo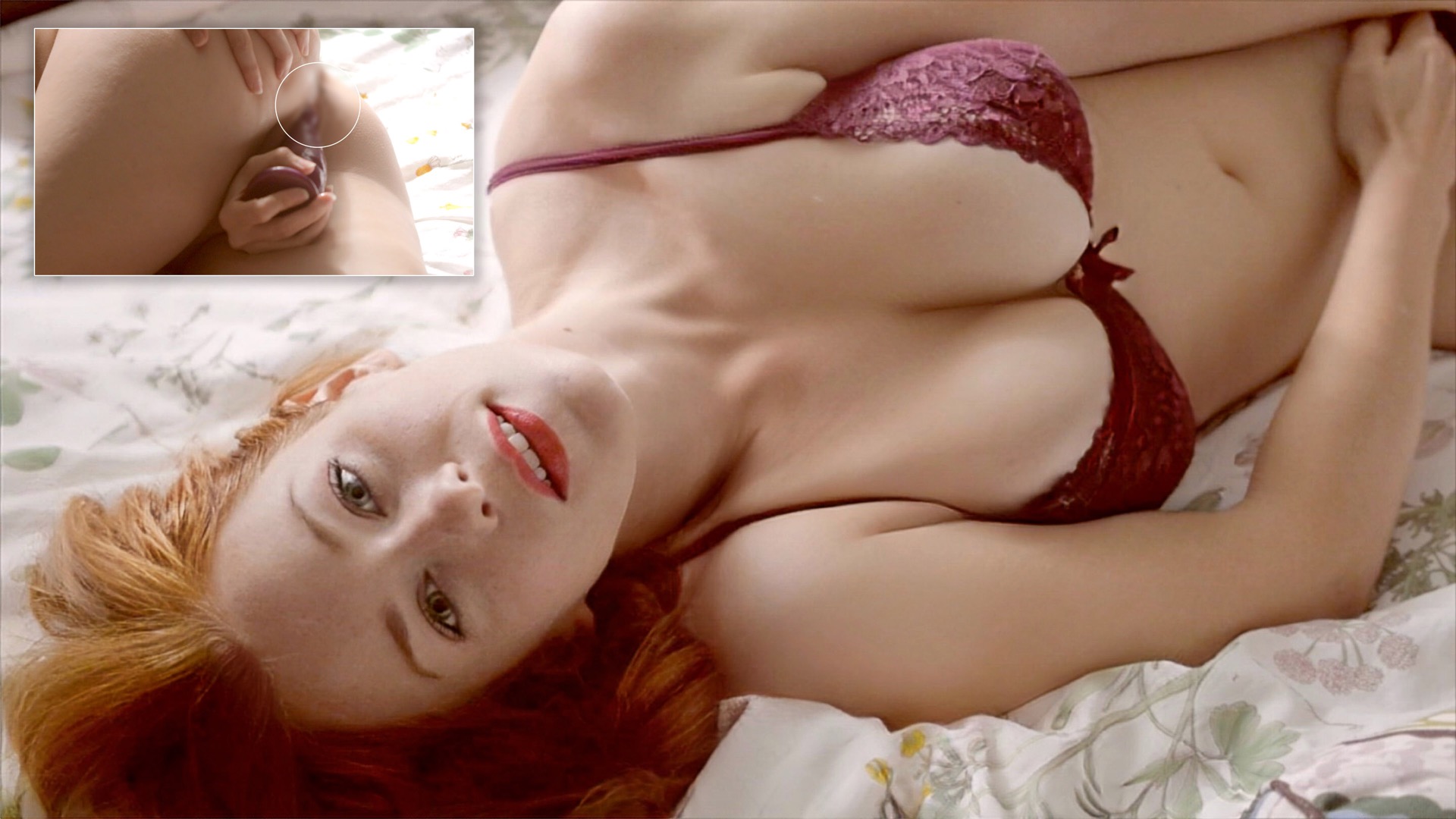 I'm lying down, wearing my sexiest lingerie. It's a deep burgundy color, and it makes my pale skin look even more pale. My red hair is cascading down my back, and my big breasts are spilling out of the top. I'm holding a purple dildo in my hand, and I'm wondering how I got here.
I'm alone, and I'm feeling so horny. I'm touching myself all over, my breasts, my pussy, my clit. I'm rubbing the dildo all over my body, and I'm getting so turned on. I'm getting so wet, and I continue to touch myself while I think about all the naughty things I want to do with it. I'm imagining someone walking in on me, and I get even more turned on. I'm about to make myself cum harder than I ever have before. I start by rubbing my clit, and then I slowly insert the dildo into my wet pussy. I start thrusting it in and out, and the sensation is unbelievable. I'm moaning and panting, and I can feel my orgasm building.
I keep thrusting faster and harder, and I'm thinking about you, and I'm wondering what you're doing right now. I'm wondering if you're thinking about me, and if you're as horny as I am. I'm hoping you are, because I really want to fuck you. I want to feel your hard cock inside of me, and I want to cum all over you. I want you to cum inside of me, and I want us to both cum together.
And I bet you're getting pretty turned on right now, thinking about me pleasuring myself with this big, hard dildo. Just imagining your reaction turns me on even more. I'm getting so wet thinking about you watching me, wanting me, needing me. I wish you were here with me right now, feeling my tight pussy wrapped around this dildo, thrusting it in and out of me, making me moan with pleasure. But since you're not here, I'll just have to imagine you're here with me, touching yourself, getting as turned on as I am. Oh, the things I would do to you if you were here right now...
I'm getting so close, and then it hits me. I moan out so loud in pleasure as I cum harder than I ever have before. I keep thrusting the dildo in and out of me as I ride out my orgasm. I moan out again and again as my body is wracked with an intense orgasm.
If you'd like to support my work, you can signup and start watching all my videos and photos right away!